Historic Engineering Landmark Compromised
Mike Porcaro | CONEXPO-CON/AGG
Affecting an area estimated to be 4,500 square miles, the Colorado Office of Emergency Management estimated that more than 1,500 homes were destroyed with 17,000 damaged. Thirty state-maintained bridges fell with 20 others rendered deficient.
As they have proven many times before in these types of situations, Gerrard Excavating excels under pressure.
The "Big Dam," on the Big Thompson River is a vital structure. Cresting to 75 feet, it holds water at an elevation high enough to divert water into a treatment plant in nearby Loveland, home of Gerrard Excavating; the water storage reservoir of Johnstown and 17,000 acres of farmland.
Built in 1895, the classic masonry arch structure is a historic engineering landmark. Big Dam was a savior for area residents withstanding several major weather events, including a monumental flood in 1976. However, its longevity and reputation could not stop floodwaters from the September storm.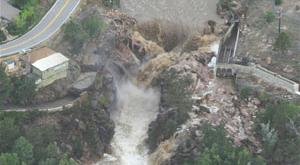 While normal flow of the Big Thompson River during September is 50 to 80 feet per second, it peaked over Big Dam an unimaginable 20,000 feet per second. That's more than enough to allow the river to flow into systems using the dam and threatening the water supply for 100,000 people living on the Front Range.
Once flooding receded severe damage showed that nearly six feet of the top of Big Dam was sheared off. Racing against time, Gerrard Excavating mobilized hauling shot-rock from Colorado Lien to temporarily divert the river upstream from the dam at an angle from the north bank into reservoirs to the south. This was near the Home Supply Ditch and Reservoir Company, owner of the dam and the firm that hired Gerrard.
Working behind the dam, Gerrard's crew was unsure if the compromised structure was safe. Their dedication was evident with equipment operators battling water moving as fast as 1,200 feet per second often running through the cab of the excavator working at the site. "We didn't know if the dam was safe. We just knew that we had to get the dam dry," Gerrard said.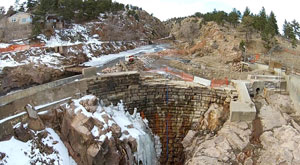 Despite tough conditions, work was completed in two weeks. The temporary diversion forced the river to flow into diversion structures ensuring safe water storage levels for Loveland and Johnstown, and for Home Supply, until permanent repairs, now underway, could be completed. With Gerrard serving as construction manager, repair work is expected to be finished in April 2015.
Preserving the historic significance of Big Dam, a new structural concrete arch dam with the quarry rock on the face used in the original construction will be built.
Source: CONEXPO-CON/AGG